American + Brazilian Inspired butt enhancement solution
A product that works
WHY CURVYPURE?
CurvyPure is a powerful butt enhancement lotion and pills that enhances your curves and visibly boosts your butt. It is designed to firm and plump the appearance of flat, shapeless buttocks. This unique two-part system butt enhancer features a topical lotion and nutritional supplement that target the hips and butt for a curvier, sexier silhouette.
Innovative two-part system with Buttocks Plumping & Enhancement Lotion and Supplement works together to deliver optimal results.*
THE GOOD KIND OF FAT
Despite endless diet fads, promises-only pills, and countless creams and potions claiming they will make you thinner, curvy is in and it's here to stay. Fat isn't the enemy, and there are places we love it, like in our buttocks. So we've created a butt plumping lotion & enhancer with a smart blend of ingredients that stimulates fat where you want it. CurvyPure butt enhancement cream supports the growth of fatty tissue, giving a naturally full, shapely appearance to hips, buttocks and thighs. Our CurvyPure natural supplement features a carefully selected blend of herbal ingredients that help to increase buttocks' volume, curve and contour, without surgery or cosmetic procedures.*
TWO-PART SYSTEM FOR ENHANCED RESULTS
With CurvyPure butt enhancer, we've designed a system that works from the inside out to enhance your curves.* CurvyPure Buttocks Plumping & Enhancement Lotion and CurvyPure Buttocks Plumping & Enhancement Supplement deliver noticeable results on their own, but you'll see improved results when you combine both products, twice a day.*
ENTIRELY NEW APPROACH
WHAT MAKES CURVYPURE SO UNIQUE
⎸ Plumps the appearance of hips and thighs as desired.
⎸ Helps to promote the overall appearance of a bigger butt.
⎸ Helps to sculpt and chisel the appearance of flat, shapeless butt.
⎸ Hydrates and replenishes moisture to soften the feel of dry, dehydrated skin.
⎸ Aids in increasing the visual volume of hips and buttocks for a curvier silhouette.
⎸ Supports skin tightness and elasticity while smoothing the look of irregular skin texture.
⎸ Clinically tested and formulated by expert chemists for efficacy and safety. Hormone free and no animal testing.
⎸ Supplement contains a proprietary blend of high-quality, ethically sourced herbs that support fat where you want it.
FOR US THE UPHEAVAL IS EQUALLY INTENSE
No one wants a saggy butt. Firm, round and lifted is in. But sometimes, no matter how many squats go into your workout, your butt may not be as perky as you'd like. That's where the CurvyPure butt enhancement cream comes in. The CurvyPure butt enhancer was designed to give you a bigger butt and a shapelier silhouette. Our butt enhancer pills and lotion contain clinically selected ingredients shown to boost your behind and create a shapelier silhouette.
With Brazilian butt lift procedures on the rise, the makers of CurvyPure recognized the demand for products that help to enhance your natural shape and create a bigger butt. Some of us are straight and narrow, and some of us may have slight curves but want a little help getting more. Either way, CurvyPure helps to boost your curves—and your confidence.
Formulated with sarsasapogenin, an ingredient derived from anemarrhena asphodeloides root extract, CurvyPure butt enhancer lotion promotes plumpness in just in the areas you want it. When applied to the buttocks, it supports lipid proliferation and the volume of fat cells for visible plumpness.
The hormone-free herbal blend in CurvyPure butt enhancer pills features a blend of fenugreek seed extract, dandelion root, dong quai root, maca root, saw palmetto and more. Rich in natural antioxidants, these herbs have been shown to support healthy fat storage in areas that benefit from a little extra cushion, like the butt. It just needs a little research to realize the top tier quality of this butt enhancer pill compared to other butt enhancer pills.
When added to a regular routine with a nutritious diet and exercise, this powerful CurvyPure pair will help to amplify your assets and support a plump, round butt, without surgery.
CURVYPURE LOTION
CurvyPure Buttocks Plumping & Enhancement Lotion harnesses the power of two targeted plant ingredients that help to support visual volume and definition in hips, thighs and buttocks.
Sarsasapogenin is derived from a rare Asian plant called anemarrhena asphodeloides that is often used in Chinese medicine. When this butt enhancer cream is applied topically to the skin, sarsasapogenin helps to stimulate the growth of fat cells. It promotes increased volume of lipids within the body's fatty tissue and over time, supports the development of a thicker fat layer for a plump, smooth appearance.
Next is macelignan, a polyphenol and extract of nutmeg. Macelignan goes to work on fatty tissue, helping to regulate the processes that lead to fat cell production. With increased fat production, targeted areas look plumper and firmer, and buttocks have the desired round, full look.
CurvyPure also supports skin integrity, encouraging a lifted, taut look. It revitalizes and refines while helping to lock moisture into the skin. A blend of nourishing moisturizers, including glycerin, macadamia seed oil and vitamin E, help to improve the appearance of dry, wrinkled skin texture over time.
Order Yours
CURVYPURE SUPPLEMENT
With a unique blend of safe, natural ingredients, CurvyPure butt enhancement pills are the key to sexier curves.* CurvyPure's herbal blend helps to mimic the effects of estrogen in the body and redirect fat to areas such as the butt.*
We selected herbs like maca, fenugreek, kelp and wild yam root for their ability to support the development of desired fat while giving backup to muscles and supporting strength and tone.
Then, we formulated the CurvyPure supplement with optimal concentrations of these ingredients to create a formula that truly works to support your goals of a curvier figure and bigger butt.*
We also know that less is more. With fewer than 11 ingredients, the CurvyPure supplement contains just the ingredients you need to see a bigger butt, and no unnecessary fillers.* The CurvyPure butt enhancer cream is hormone and gluten free, and is safely formulated without yeast, artificial colors or flavors, and preservatives.
Though CurvyPure does not contain hormones, it supports a healthy hormonal balance within the body to ensure fat growth in the areas where you want it, not where you don't.* The CurvyPure butt enhancer helps to "reroute" estrogen so that fat develops in areas naturally prone to curves, such as the butt.*
Order Yours
CURVYPURE KEY INGREDIENTS
The CurvyPure system is clinically formulated with targeted active ingredients and carefully selected botanicals.
LOTION
⎸ ANEMARRHENA ASPHODELOIDES: This Asian plant contains sarsasapogenin, an extract that helps to stimulate fat cells. It promotes the proliferation of the lipids that lead to an increase in fatty tissue. It helps to support the expansion of a fatty layer that plumps and smoothes the skin, resulting in a fuller, rounder butt.
⎸ MACELIGNAN: A lignan derived from nutmeg, macelignan helps to regulate the expression of genes involved in fat cell production.
⎸ MACADAMIA SEED OIL: This rich, skin-conditioning oil helps to replenish dry skin. It leaves skin smooth, soft and silky to the touch.
⎸ MATRICARIA FLOWER EXTRACT: This soothing botanical has antioxidant benefits and helps to condition dry skin.
SUPPLEMENT
⎸ FENUGREEK SEED: The plant is rich in vitamins, minerals and antioxidants. It has been used for years as a natural appetite suppressant and is said to curb food cravings. It has been shown to encourage healthy estrogen levels in the body, which leads to shapely curves and contours.*
⎸ DONG QUAI: Often called the female ginseng, dong quai is an ancient Chinese herb with powerful compounds known to help regulate hormone levels with estrogen-mimicking effects. With high antioxidant capacity and detoxification properties, it may also help to ward off inflammation.*
⎸ DANDELION ROOT: Dandelion root has been shown to exhibit estrogen-like activity, making it an excellent part of the support system needed to help encourage fat development in the butt.*
⎸ MACA ROOT: Native to Peru, this nutrient-dense, highly antioxidant plant is known for its survival capabilities in harsh conditions. It is also known for its ability to impact estrogen levels by stimulating the pituitary gland.*
⎸ KELP: Rich in iodine, amino acids and nutrients, kelp is a nutritional powerhouse. It can also help to jumpstart a sluggish thyroid and bring the body into balance.*
⎸ WILD YAM ROOT: A compound found in wild yam has been shown to imitate the effects of estrogen. It also has anti-inflammatory properties.*
⎸ SAW PALMETTO: Saw palmetto offers a potent source of fatty acids and phytosterols. It has also been shown to have anti-inflammatory benefits and mitigate testosterone in the female body.*
⎸ BLESSED THISTLE: Blessed thistle is a detoxifying herb that benefits many functions in the body.*
⎸ SOY: You may know soy as an ingredient commonly found in food. But soy also contains isoflavones, or free radical scavengers, with powerful antioxidant benefits. Soy also impacts estrogen levels in the body.*
HOW TO APPLY CURVYPURE
Follow the exact directions below for best results. Use CurvyPure lotion and CurvyPure supplement together to see better, faster results.
⎸ Use CurvyPure lotion daily after showering. Gently massage CurvyPure into the buttocks (and hips or thighs if desired) twice a day. For best results, use CurvyPure morning and evening.
⎸ Take two CurvyPure supplement once per day as a dietary supplement, preferably after a meal.
CurvyPure Customer Reviews
★★★★★

CurvyPure is the real deal. Honestly I was not sure this stuff would do what it claimed. Nevertheless I decided to give it a try. After applying it religiously for a couple weeks I started to feel that it may be working. I first noticed a firming sensation and then the volume started increasing! And I was getting rounder and more shapely. The supplement is also an important part of it and when I started working out 3 days per week I realized that it helps a lot too… and the better results coming from the cream inspire me to eat better and exercise more. Very satisfied!

Camila Morales
★★★★★

I purchased CurvyPure cream and pills. I was skeptical at first, but I knew it was time for a change, and that I needed more than my 30 squats a day. It's over seven weeks now, and my butt has already increased in size. It is also taking the round shape that fits so well in my jeans. CurvyPure is the best product you can get today, giving you the butt lift you so desire easily. Unlike other curve enhancing creams that burn my skin, CurvyPure doesn't trigger any allergies. And I get to save a lot of money because it has 100 capsules.

Kiara Rush
★★★★★

Wow! This product is AMAZING!! I never thought any cream or pills could make me grow this big backside within three months. Not only does it give me the desired butt I wanted, but the cream also makes my butt supplier, making it jiggle every time I work. The cream comes in a big tube for a long-lasting experience. I highly recommend this product to those who are serious about looking sexy.

Angela Williams
★★★★★

After debating for over a month, I decided to take a gamble on CurvyPure. And wow, I'm blown away with the result. In just two weeks I grew an inch! This is my fourth week, and I love every single bit of this product. Also, I have a sensitive skin that repels almost every skincare product. And the cold region I live in isn't helping much too. But CurvyPure cream was so on point. It didn't trigger any allergic reactions. The pills also don't smell. They are so easy to use. Now my confidence is back, and I love my new ME!

Breanna Wilson
★★★★★

I started using this set for over three months, and my buttock definitely looks a lot plumper, fuller, and my hips and thighs are giving me the curves I can only dream of. Unlike some expensive butt enhancing pills and creams I tried, CurvyPure didn't increase the fat on my arms and tummy. I absolutely love this product, and I recommend it to lovers of big booty!

Crystal Nelson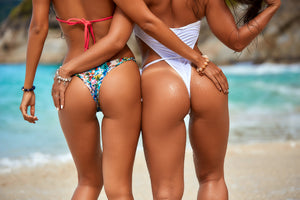 Energize your buttocks
Discover the butt and breast enhancement solution powered by natural ingredients, backed by cutting-edge science.
Order Yours